Amid all the uncertainty and turmoil caused by this global COVID-19 pandemic, one thing I am grateful for is a newly kindled excitement to read physical books. As someone who is on screens nearly half the day, every day, I really enjoy the experience of disconnecting and reading a good printed book.
Today I wanted to take a moment to spread the word about A Selfish Plan to Change the World by Justin Dillon.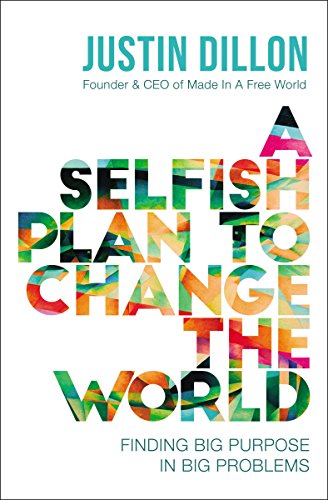 What if your search for meaning could solve the world's problems? What if everything you are passionate about could save a life or change history?

In this paradigm-shifting new book, Dillon reveals the secret to a life of deep and lasting significance: the discovery that our need for meaning is inextricably linked to the needs of the world. Drawing upon his own unlikely transformation from touring musician to founder of a global movement and telling the stories of other surprising world-changers, Dillon shows how to create a life of deep purpose by stepping into the problems of the world. Taking readers on a journey from sweatshops in India to punk rock concerts in Ireland, Dillon exposes the limitations of the "giving back" approach involving donations and volunteerism to reveal the unexpected power of "giving in" to pursue self-interest in a way that alters the very dynamics of the world's most challenging problems.

A Selfish Plan to Change the World is your "self-help-others" guide to a life that matters, demonstrating how you can repurpose your existing talents, backstory, and networks to improve the lives of others. Changing the world no longer belongs only to martyrs and professional do-gooders. You can live an extraordinary life. You can change the world. All you ever needed was a plan.
As I work towards finding my own riot throughout my life, I will certainly refer back to this life changing book. I hope this helps someone else as well.